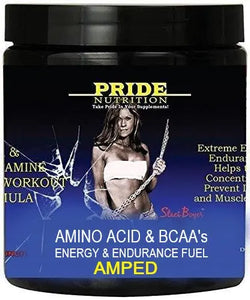 AMPED (NEW) Staci Boyer - Blue Raz
Regular price $44.99 Sale
AMPED (NEW FLAVOR - BLUE RAZ) is Staci Boyer Signature unique Amino Acid blend designed to help improve energy, strength, endurance and stamina. This Amino Acid blend is loaded with 8g's of crucial Amino Acids including Beta Alanine, L-Glutamine, BCAA's and L-Taurine.  Along with the AMPED Amino Acid blend, this advanced formula also contains a newly added ingredient ALPHA GPC and 150mg Caffeine per scoop which helps to deliver maximum focus, smooth energy boost and aids in improving mental alertness and concentration levels. Take your workouts to another level get AMPED!
Supplement Facts
Serving Size 1 scoop (9.8g)
Servings Per Container 25
Amount Per Serving
Amino Blend 8000mg
(Glutamine, Taurine, Beta Alanine,
BCAA 2:1:1 (L-Leucine, L-Isoleucine, L-Valine), Alpha GPC)
Caffeine Anhydrous 150mg
*Percent Daily Values are based on a 2,000 calorie diet.
*Daily values not established.
Other Ingredients: Natural & Artificial Flavors, Malic Acid, Sucralose, acesulfame potassium, silicon dioxide, blue
Suggestive Usage: As a dietary supplement mix one scoop of Motiv8 AMPED with 10 to 12oz of water or favorite beverage 30 minutes prior to exercise.  AMPED can also be used daily for a smooth energy boost in the morning or in between meals on training or non-training days.  For maximum results, use 1 to 2 scoops of AMPED along with Pride Nutrition's Ammunition and C-Gone pre-workout and Pride Nutrition's Priority during workouts and ISO-RESPECT or RESPECT Protein post workout.  Remember to repeatedly stir the mixture while drinking to allow for total nutrient uptake and always drink the recommended 8 to 10 full glassed of water daily while using AMPED.
Caution: This product contains caffeine and should be used with caution when combined with other caffeinated products or if you are sensitive to stimulants. Do not exceed 3 scoops in a 24 hour period. Avoid taking within 4 hours before bedtime. Warning: keep out of reach of children. Do not use if you are trying to avoid caffeine in you diet. Not intended for use by anyone under 18 years of age. Do not use if you are pregnant or nursing. Consult your health care professional before use if you have a pre-existing condition or being treated for or have a history of high or low blood pressure, heart arrhythmia, anxiety, seizures, strokes, migraines, diabetes, erectile dysfunction, taking diuretics, prone to cold sores, taking MAO inhibitors or heart medication.