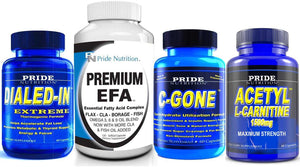 #1 Ultimate Weight Loss Stack With Acetyl-L-Carnitine "New Version Option"
Regular price $144.99 $119.99 Sale
Product Description  
The Ultimate Weight Loss System 
Lose Weight Now, Look Great & Feel Healthy!
This weight loss system was carefully formulated to accelerate your metabolism, burn fat more efficient, reduce water retention and increases carbohydrate utilization while preventing fat storage.
Stacking Dialed-In Extreme (Metabolism Booster) with Acetyl-L-Carnitine(Fat Accelerator), C-Gone(Non-Stimulant Carb & Fat Burner) and Premium EFA(Flax, Fish, Borage & CLA Blend- Helps Shed Stubborn Stored Fat) will quickly turn your body into a fat burning machine. This body sculpting system, which supplies over 2000 mg of Acetyl-L-Carnitine, is designed to dramatically improve muscle tone and definition to give you that lean look that everyone desires! 
Minimum Dosage
Before Breakfast
1 – DIALED-IN

 

Extreme
1 – C-GONE
1 – Premium EFA
Before Lunch
1 – DIALED-IN
1 – Acetyl-L-Carnitine
Before Dinner
1 – C-GONE
1 – Acetyl-L-Carnitine
1 – Premium EFA

Maximum Dosage
Before Breakfast
2 – DIALED-IN Extreme
1 – C-GONE
2 – Premium EFA
Before Lunch
2 – DIALED-IN
1– Acetyl-L-Carnitine & 2 – Premium EFA
Before Dinner
1 – C-GONE
1 to 2– Acetyl-L-Carnitine
2 – Premium EFA

 

Helpful tips: Breakfast starts your metabolism for the day. Eat smaller meals about every 3 to 4 hours and drink eight to ten glasses of quality water daily. Protein fuels your metabolism and most lean bodies require at least 100 grams of quality protein a day. Eat balanced meals that supply between 1500 to 2000 calories a day. Try to eat as many grams of protein as carbohydrates and more green vegetables than starchy carbohydrates like bread and pasta. †



Warning: Keep out of reach of children. Do not use if you are pregnant or nursing. Do not use if you are sensitive to or trying to avoid caffeine in your diet. Consult with your physician before use if you are being treated for or have a history of high blood pressure, low blood sugar, diabetes, asthma, anxiety, depression, insomnia and/or are taking any medications. Read the warning labels on all the products included in this system carefully. †